Home|Rules|Tutorials|Chat|Artists|Archives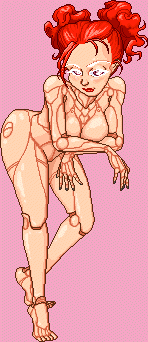 Submissions Due
July 15th
Download the base doll from the MKC.
(To download from the MKC you have to right-click [or click and hold on Mac]
choose save as and make sure it saves the file as "sue.lzh" without the quotations)
Download the simple version from the MKC.
Download the base doll from Otakuworld.
You need a viewer to use this file, which can be found for almost any computing platform at Otakuworld.
Send clothing submissions to jeremyputnam@yahoo.com.
Silicon Sue is a 5000-series cowdroid optimized for use on the wild western frontiers of Alpha Centauri. This model can be easily reprogrammed for use in any western environment. Primary settings include: barmaid, deputy, brothel girl, prospector, schoolmarm, and mysterious stranger. Do-it-yourself repairs are a breeze with Silicon Sue!
As with all 5000-series cowdroids, Silicon Sue has been equipped with a Heart of Gold (tm).
Warning! Several Silicon Sue 5000-series cowdroids have suffered irreparable malfunction and are no longer under human control. Renegade Silicon Sue cowdroids should be considered armed and dangerous. Outlaw behavior is not covered by our warranty.